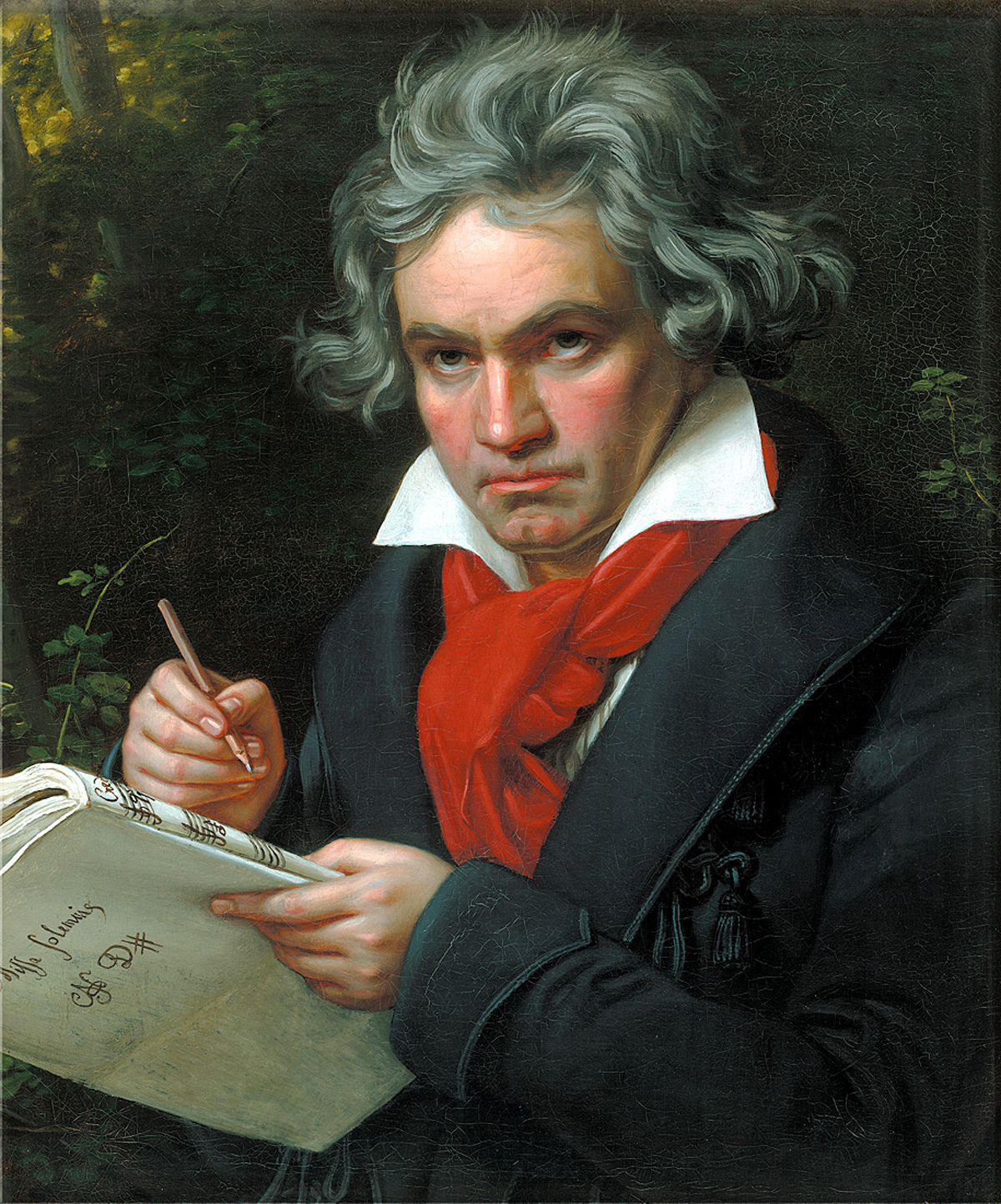 Beethoven
Piano Concerto #5 "Emperor" - Vladimir Ashkenazy pianist

Ludwig van Beethoven was a German composer and pianist. Beethoven remains one of the most admired composers in the history of Western music; his works rank amongst the most performed of the classical music repertoire. His works span the transition from the classical period to the romantic era in classical music; from the "classical" styles of Joseph Haydn and Wolfgang Amadeus Mozart, to the early romantics as Chopin, Shubert, Mendelsohn. In the late period of his, Beethoven began to suffer increasingly from deafness. His symphony No. 9 "the Symphony of Symphonies" wass composed when he was deaf
Born in Bonn, Beethoven's musical talent was obvious at an early age. His first major orchestral work, the First Symphony, appeared in 1800, and his first set of string quartets was published in 1801. During this period, his hearing began to deteriorate, but he continued to conduct, premiering his Third and Fifth Symphonies in 1804 and 1808, respectively. His Violin Concerto appeared in 1806. His last piano concerto (No. 5, Op. 73, known as the 'Emperor'), dedicated to his frequent patron Archduke Rudolf of Austria, was premiered in 1810, but not with Beethoven as soloist.
Beethoven was almost completely deaf by 1814, He composed many of his most admired works, in this period, including his later symphonies and his mature chamber music and piano sonatas. His only opera, Fidelio, which had been first performed in 1805, was revised to its final version in 1814. He composed his Missa Solemnis in the years 1819–1823. After some months of bedridden illness, he died in 1827. Beethoven's works remain the mainstays of the classical music repertoire.
Chopin
Plonaise "Heroic" op. 53 - Olga Scheps pianist

Frédéric François Chopin was a Polish composer and virtuoso pianist of the Romantic era who wrote primarily for solo piano. He has maintained worldwide renown as a leading musician of his era, one whose "poetic genius was based on a professional technique that was without equal in his generation."
Chopin was born in Żelazowa Wola in the Duchy of Warsaw and grew up in Warsaw, which in 1815 became part of Congress Poland. A child prodigy, he completed his musical education and composed his earlier works in Warsaw before leaving Poland at the age of 20 Chopin formed a friendship with Franz Liszt and was admired by many of his other musical contemporaries, including Robert Schumann.
After a failed engagement to Maria Wodzińska from 1836 to 1837, he maintained an often-troubled relationship with the French writer Amantine Dupin (known by her pen name, George Sand). A brief and unhappy visit to Mallorca with Sand in 1838–39 would prove one of his most productive periods of composition. In his final years, he was supported financially by his admirer Jane Stirling, who also arranged for him to visit Scotland in 1848.
For most of his life, Chopin was in poor health. He died in Paris in 1849 at the age of 39, probably of pericarditis aggravated by tuberculosis. All of Chopin's compositions include the piano. Most are for solo piano, though he also wrote two piano concertos and a few chamber pieces. His piano music is technically demanding which expands the limits of the instrument.
Wolfgang Amadeus Mozart
Mozart
Wolfgang Amadeus Mozart was born 27 January 1756 and died on 5 December 1791, at the age of 35. He was baptised as Johannes Chrysostomus Wolfgangus Theophilus Mozart. He was a prolific and influential composer of the Classical period. Born in Salzburg, in the Holy Roman Empire.
Mozart showed prodigious ability from his earliest childhood. Already competent on keyboard and violin, he composed from the age of five and performed before European royalty. At 17, Mozart was engaged as a musician at the Salzburg court but grew restless and travelled in search of a better position.
While visiting Vienna in 1781, he was dismissed from his Salzburg position. He chose to stay in Vienna, where he achieved fame but little financial security. During his final years in Vienna, he composed many of his best-known symphonies, concertos, and operas, and portions of the Requiem, which was largely unfinished at the time of his early death at the age of 35. The circumstances of his death have been much mythologized. He composed more than 600 works, many of which are acknowledged as pinnacles of symphonic, concertante, chamber, operatic, and choral music. He is considered among the greatest classical composers of all time. His influence on Western music is profound.
Gioachino Antonio Rossini
Gioachino Antonio Rossini was born on 29 February 1792 in Pesaro, Papal States (Italy) and died on 13 November 1868 in Paris, France. He was an Italian composer who gained fame for his 39 operas particularly his comic operas, of which The Barber of Seville (1816), Cinderella (1817), and Semiramide (1823) are among the best known. Of his later, larger-scale dramatic operas, the most widely heard is William Tell (1829He also wrote many songs, some chamber music and piano pieces, and some sacred music. He set new standards for both comic and serious opera before retiring from large-scale composition while still in his thirties, at the height of his popularity.
Johann Strauss Jr.
Johann Strauss Jr. was born in 1825, in Austria, and died on 3 June 1899. His father, Johann Strauss Sr. was a self-taught musician who established a musical dynasty in Vienna, writing waltzes, galops, polkas and quadrilles and publishing more than 250 works. Johann Jr. went on to write more than 500 musical compositions, 150 of which were waltzes, and he surpassed both his father's productivity and popularity. Compositions such as The Blue Danube helped establish Strauss as "the Waltz King" and earned him a place in music history. His other famous waltzes include Emperor Waltz, Tale from the Vienna Wood, Vienna Blood, Morning Papers, etc. etc. etc. Among his operettas, Die Fledermaus (The Bat) and Der Zigeunerbaron (The Gipsy Baron) are the best known.
Pyotr Ilyich Tchaikovsky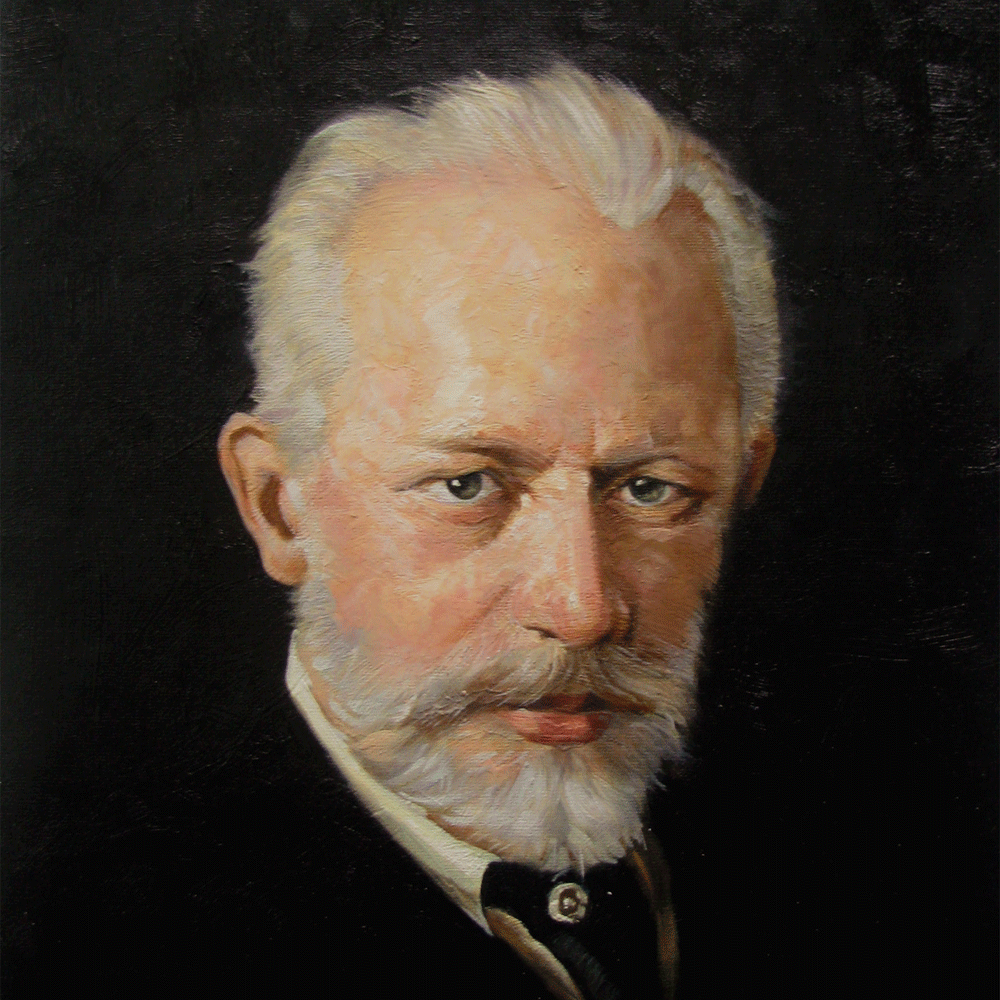 Tchaikovsky
Pyotr Ilyich Tchaikovsky was a Russian composer of the Romantic period. He was the first Russian composer whose music made a lasting impression internationally. He was honored in 1884 by Tsar Alexander III and awarded a lifetime pension.
Tchaikovsky was in Kamsko-Votkinsk, 7 May 1840 and died St Petersburg, 6 November 1893; He lived in the Romantic period of music. He is the most popular of all Russian composers. He wrote melodies which were usually dramatic and emotional. His compositions include 11 operas, 3 ballets, orchestral music, chamber music and over 100 songs. His famous ballets (Swan Lake, The Nutcracker and Sleeping Beauty) have some of the best known tunes in all of romantic music. He is widely regarded as the greatest composer of ballets.
Tchaikovsky's sudden death at the age of 53 is generally ascribed to cholera. His music has remained extremely popular among audiences, I consider his "Swan Lake" ballet the greatest ever. It is two plus hours of beautiful melodies, one after another. I always maintain that when Tchaikovsky composed "Swan Lake" he was touched by the "Hand of God."
Swan Lake "El Lago de los Cisnes" Teatro Colon /Nadia Muzyca- Juan Pablo Ledo

Giuseppe Fortunino Francesco Verdi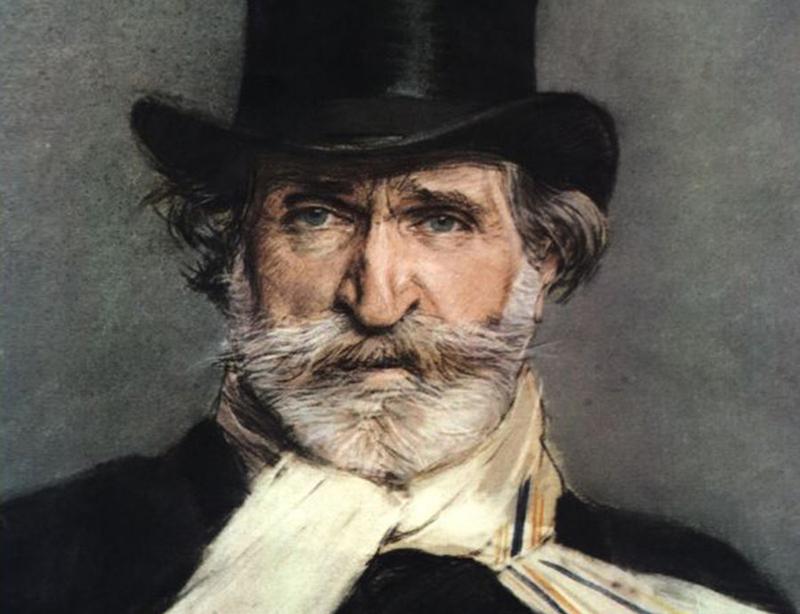 Verdi
Giuseppe Verdi was an Italian opera composer born on 9 October 1813 and died on 27 January 1901. He was born near Busseto to a provincial family of moderate means, and developed a musical education with the help of a local patron. Verdi came to dominate the Italian opera scene after the era of Vincenzo Bellini, Gaetano Donizetti, and Gioachino Rossini, whose works significantly influenced him. In his early operas, Verdi demonstrated a sympathy with the Risorgimento movement which sought the unification of Italy. The chorus "Va, pensiero" from his early opera Nabucco (1842)was much in the spirit of the unification movement, and the composer himself became esteemed as a representative of these ideals.
An intensely private person, Verdi, became professionally successful was able to reduce his operatic workload and sought to establish himself as a landowner in his native region. He surprised the musical world by returning, after his success with the opera Aida (1871), with three late masterpieces: his Requiem (1874), and the operas Otello (1887) and Falstaff (1893). His operas remain extremely popular, especially the three peaks of his 'middle period': Rigoletto, Il Trovatore and La Traviata, and the 2013 bicentenary of his birth was widely celebrated in broadcasts and performances. He is regarded as the greatest of all opera composers. He wrote 26 operas and more than 20 of them are in the standard repertoire of opera houses around the world.
Vivaldi
Antonio Lucio Vivaldi was born on 4 March 1678 and died on 28 July 1741. He was an Italian Baroque composer, virtuoso violinist, teacher, impresario, and Roman Catholic priest. Born in Venice, the capital of the Venetian Republic, Vivaldi is regarded as one of the greatest Baroque composers, and his influence during his lifetime was widespread across Europe, being paramount in the development of Johann Sebastian Bach's instrumental music.
Vivaldi composed many instrumental concertos, for the violin and a variety of other musical instruments, as well as sacred choral works and more than forty operas. His best-known work is a series of violin concertos known as the Four Seasons. Many of his compositions were written for the all-female music ensemble of the Ospedale della Pietà, a home for abandoned children. Vivaldi had worked there as a Catholic priest for 18 months and was employed there from 1703 to 1715 and from 1723 to 1740. Vivaldi also had some success with expensive stagings of his operas in Venice, Mantua and Vienna. After meeting the Emperor Charles VI, Vivaldi moved to Vienna, hoping for royal support. However, the Emperor died soon after Vivaldi's arrival, and Vivaldi himself died in poverty less than a year later.
After almost two centuries of decline, Vivaldi's music underwent a revival in the early 20th century, with much scholarly research devoted to his work. Many of Vivaldi's compositions, once thought lost, have been rediscovered - in one case as recently as 2006. His music remains widely popular in the present day and is regularly played all over the world.